HAVE A FLUORESCENT-STONE EVENING IN YOUR OWN HOME
A fundraising event for Quail Ridge Reserve
We start with a general discussion of fluorescence using written materials which are left with the the hosts to read and/ or for a student as a basis for a school paper.

We follow with a discussion of some of the materials needed to observe and/ or collect fluorescent rocks "in the wild."

An interesting collection of fluorescent rocks will be shown, looking at them first in visible light, and then viewing them in both long and short wave ultraviolet [UV) lights. `

A special part of the evening will be to investigate possible UV-sensitive materials and rocks collected by the hosts over their past travels—have them ready!

The donation [TBA) for this 1-1/2 to 2 hour fun and educational presentation will go to Quail Ridge Wilderness Conservancy and the preservation of a 2000-acre oak forest on Quail Ridge Reserve.

For further information and planning please call Frank Maurer, Executive Director of QRWC at 530/219-4477 (cell).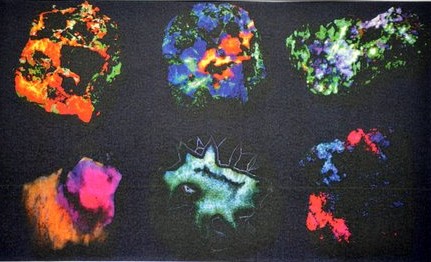 Home

About QRWC

Activities

Fundraising


QRWC News

You Can Help!

Gift Boutique

e-mail: frankmaurer41@gmail.com
with subject line Attention Frank QRWC